Glass Furnaces 1000 °C
Electric furnace for glass work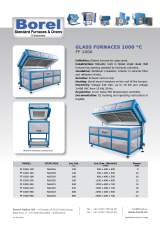 Product Description
Construction: Robustly built in folded sheet steel. Bell furnace has opening assisted by hydraulic cylinders.
Insulation: Multilayer insulation. Interior in ceramic fibre and refractory bricks.
Aeration: Exhaust vent on top.
Heating: Spiral wound resistors on the roof of the furnace.
Electricity: Voltage 230 VAC, up to 10 kW and voltage 3x400 VAC from 10 kW. 50 Hz.
Regulation: Axron Swiss PID temperature controller.
Documentation: CE marking and operating instructions in English.

Options available upon request: Axron Swiss Temperature Programmer, Time and temperature recorder, 24 hour programmable timer, Over temperature protection, Extended warranty.
| | | | | |
| --- | --- | --- | --- | --- |
| Model | Item code | Int. Vol. (L) | Int. Dim. (WxHxD) (mm) | Power (kW) |
| FF 1000-100 | N16316 | 100 | 500 x 400 x 500 | 8.0 |
| FF 1000-140 | N16318 | 140 | 700 x 400 x 500 | 10.0 |
| FF 1000-180 | N16319 | 180 | 900 x 400 x 500 | 10.0 |
| FF 1000-260 | N16320 | 260 | 1100 x 400 x 600 | 12.0 |
| FF 1000-340 | N16321 | 340 | 1200 x 400 x 700 | 15.0 |
| FF 1000-420 | N16322 | 420 | 1500 x 400 x 700 | 18.0 |
| FF 1000-480 | N16323 | 480 | 2000 x 400 x 600 | 18.0 |
| FF 1000-560 | N16324 | 560 | 2000 x 400 x 700 | 22.0 |
Download product data sheet


See also