Industrial Furnaces 1250 °C
Electric chamber furnace for all applications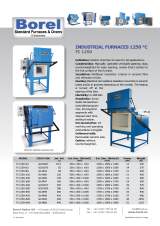 Product Description
Construction: Manually operated vertically-opening door, counterweighted for easy opening, avoids direct contact to the hot surface of the furnace.
Insulation: Multilayer insulation. Interior in ceramic fibre and refractory bricks.
Heating: Electrical coil resistors. Resistors mounted on ceramic tubes and/or in grooves depending on the models. The heating is turned off at the opening of the door.
Electricity: 3x400 VAC, 50 Hz.
Regulation: Axron Swiss temperature controller/programmer, 30 programs of 15 segments with delayed start time setting function.
Documentation: CE marking and operating instructions in English.
Delivered with: Removable ceramic sole

Options available upon request: Additional metal or ceramic sole, Time and temperature recorder, Software for PC control and recording, Circulation of inert gas, Extended warranty.
| | | | | | | |
| --- | --- | --- | --- | --- | --- | --- |
| Model | Item code | Int. Vol. (L) | Int. Dim. (WxHxD) (mm) | Ext. Dim. (WxHxD) (mm) | Power (kW) | Weight (kg) |
| FI 1250-53 | G201867 | 52.5 | 350 x 300 x 500 | 1050 x 1550 x 1600 | 12 | 345 |
| FI 1250-63 | G201873 | 63 | 350 x 300 x 600 | 1050 x 1550 x 1700 | 14 | 370 |
| FI 1250-84 | G14944 | 84 | 350 x 300 x 800 | 1050 x 1550 x 1900 | 21 | 400 |
| FI 1250-120 | G14560 | 120 | 500 x 400 x 600 | 1250 x 1650 x 1850 | 21 | 430 |
| FI 1250-140 | G14946 | 140 | 350 x 400 x 1000 | 1050 x 1650 x 2100 | 21 | 480 |
| FI 1250-160 | G14947 | 160 | 500 x 400 x 800 | 1250 x 1650 x 2000 | 24 | 530 |
| FI 1250-200 | G201817 | 200 | 500 x 400 x 1000 | 1250 x 1650 x 2200 | 30 | 570 |
| FI 1250-280 | G202050 | 280 | 700 x 500 x 800 | 1450 x 1750 x 2050 | 33 | 890 |
| FI 1250-350 | G14698 | 350 | 700 x 500 x 1000 | 1450 x 1700 x 2200 | 33 | 930 |
| FI 1250-420 | G14948 | 420 | 700 x 500 x 1200 | 1450 x 1750 x 2400 | 37 | 980 |
| FI 1250-490 | G14949 | 490 | 700 x 700 x 1000 | 1450 x 1950 x 2250 | 40 | 1050 |
| FI 1250-640 | G14868 | 640 | 800 x 800 x 1000 | 1550 x 1950 x 2300 | 52 | 1120 |
Download product data sheet


See also