Opening Tube Furnaces 1100 °C
Opening electric tube furnace for all applications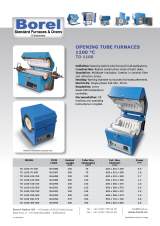 Product Description
Construction: Robust construction made of bent plate.
Insulation: Multilayer insulation. Interior in ceramic fibre and refractory bricks.
Heating: Working chamber surrounded by heating elements.
Electricity: Voltage 230 VAC, 50 Hz up to 4 kW and voltage 3x400 VAC frequency 50 Hz from 4 kW.
Regulation: Axron Swiss PID temperature controller.
Documentation: CE marking and operating instructions in English.

Options available upon request: Axron Swiss Temperature Programmer, Shop table, Circulation of inert gas, Equipment to work under vacuum, Extended warranty.
Model
Item code
Heated Lenght
(mm)
Tube Dim. (Øxlenght)
(mm)
Ext. Dim. (WxHxD) (mm)
Power (kW)
TO 1100-70-250
N16386
250
70
400 x 510 x 500
1.6
TO 1100-70-500
N16387
500
70
650 x 510 x 500
2.4
TO 1100-100-250
N16388
250
100
400 x 510 x 500
2.4
TO 1100-100-500
N16389
500
100
650 x 510 x 500
3.0
TO 1100-130-250
N16390
250
130
400 x 510 x 500
3.0
TO 1100-130-500
N16391
500
130
650 x 510 x 500
3.5
TO 1100-200-400
N16392
250
160
400 x 510 x 500
3.0
TO 1100 250-400
N16394
400
200
555 x 710 x 740
6.0
Download product data sheet


See Also