Tilting Furnace 1050 °C
Furnace with metal chamber that tilts into a quenching tank. For quenching or annealing applications, work with inert and flammable (optional for model *-40) gas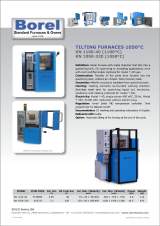 Product Description
Construction: Transferring of the parts from furnace into the quenching tank, without contact with air. Parts recovery tank.
Insulation: Metallic housing is insulated from quenching tank.
Heating: Heating elements surrounded working chamber. Stainless steel tank for quenching liquid (oil, emulsions, solutions) with heating (optional for model *-40)
Electricity: Model *-40, single-phase 400 VAC, 50 Hz. Model *-320, 3x400 VAC. Delivered without electric plug.
Regulation: Axron Swiss PID temperature controller. Time programmer for delayed on/off.
Documentation: CE marking and operating instructions in English.
Delivered with: Ladle.

Options available upon request: Axron Swiss Temperature Programmer, Quenching liquid Heater, Flammable gas safety equipment, Shop table, Automatic tilting of the furnace at the end of the cycle, Extended warranty.
| | | | | | | | |
| --- | --- | --- | --- | --- | --- | --- | --- |
| Model | Item code | Int. Vol. (L) | Oil Tank Vol. (L) | Int. Dim. (WxHxD) (mm) | Ext. Dim. (WxHxD) (mm) | Power (kW) | Weight (kg) |
| KN 1100-40 | P726859 | 0.68 | 40 | 70 x 20 x 98 / 300 | 600 x 700 x 600 | 2.0 | 116 |
| KN 1050-320 | N15237 | 2.7 | 320 | 150 x 60 x 160 / 490 | 1350 x 1700 x 1185 | 4.0 | 470 |
Download product data sheet


See Also