Chamber Furnaces 1400 °C
Electric chamber furnace for all applications, high temperature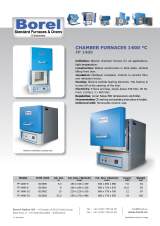 Product Description
Construction: Robust construction made of bent plate. Vertical lifting front door.
Insulation: Multilayer insulation. Interior in ceramic fibre and refractory bricks.
Heating: Silicon carbide heating elements. The heating is turned off at the opening of the door.
Electricity: 9 liters and less, single-phase 230 VAC, 50 Hz. From 12 liters, 3x400 VAC, 50 Hz.
Regulation: Axron Swiss PID temperature controller.
Documentation: CE marking and operating instructions in English.
Delivered with: Removable ceramic sole.

Options available upon request: Axron Swiss Temperature Programmer, Over temperature protection, Additional metal or ceramic sole, Additional set of heating elements, Extended warranty.
| | | | | | | |
| --- | --- | --- | --- | --- | --- | --- |
| Model | Item code | Int. Vol. (L) | Int. Dim. (WxHxD) (mm) | Ext. Dim. (WxHxD) (mm) | Power (kW) | Weight (kg) |
| FP 1400-5 | G15000 | 5.25 | 150 x 140 x 250 | 550 x 650 x 580 | 3.3 | 64 |
| FP 1400-9 | G15001 | 9 | 200 x 180 x 250 | 560 x 720 x 640 | 4.4 | 65 |
| FP 1400-15 | G15002 | 15 | 220 x 220 x 310 | 590 x 790 x 690 | 5.8 | 67 |
| FP 1400-30 | G15003 | 29.7 | 250 x 270 x 440 | 660 x 800 x 730 | 11.5 | 105 |
Download product data sheet


See Also