Industrial Ovens 250 °C
Forced convection electric oven for all applications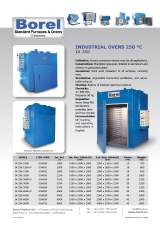 Product description
Construction: Monobloc type oven. Interior in aluminium and exterior in galvanised plate.
Insulation: Rock wool insulation of all surfaces, including door.
Ventilation: Adjustable horizontal ventilation, and adjustable exhaust.
Heating: Battery of shielded electrical resistors.
Electricity: 3x400 VAC, 50 Hz.
Regulation: Axron Swiss PID temperature controller, timer and hour counter.
Documentation: CE marking and operating instructions in English.

Options available upon request: Bottom: Bottomless, strengthened bottom 1500kg, cuts to measure for trolley. Oven on the feet. Shelf. Swing doors (standard on model 8000 litres), guillotine door. Tunnel oven (front and rear doors). Extended warranty.
| | | | | | | |
| --- | --- | --- | --- | --- | --- | --- |
| Model | Item code | Int. Vol. (L) | Int. Dim. (WxHxD) (mm) | Ext. Dim (WxHxD) (mm) | Power (kW) | Weight (kg) |
| IA 250-1000 | G14830 | 1000 | 1000 x 1000 x 1000 | 1950 x 2100 x 1400 | 15.0 | 700 |
| IA 250-1500-H | G14831 | 1500 | 1000 x 1500 x 1000 | 1950 x 2650 x 1400 | 18.0 | 800 |
| IA 250-1500 | G14832 | 1500 | 1000 x 1000 x 1500 | 1950 x 2150 x 1900 | 18.0 | 850 |
| IA 250-2000 | G14833 | 2000 | 1000 x 1500 x 1500 | 1950 x 2650 x 1900 | 18.0 | 1000 |
| IA 250-3000-H | G14834 | 3000 | 1200 x 1800 x 1500 | 2200 x 3000 x 1900 | 30.0 | 1200 |
| IA 250-3000 | G14835 | 3000 | 1200 x 1500 x 1800 | 2200 x 2700 x 2200 | 30.0 | 1200 |
| IA 250-3500 | G14836 | 3500 | 1500 x 1500 x 1500 | 2500 x 2700 x 1900 | 30.0 | 1200 |
| IA 250-4500-H | G14837 | 4500 | 1500 x 2000 x 1500 | 2500 x 3200 x 1900 | 45.0 | 1300 |
| IA 250-4500 | G14838 | 4500 | 1500 x 1500 x 2000 | 2500 x 2700 x 2500 | 45.0 | 1400 |
| IA 250-6000 | G14839 | 6000 | 1500 x 2000 x 2000 | 2500 x 3200 x 2500 | 45.0 | 1500 |
| IA 250-8000 | G14840 | 8000 | 2000 x 2000 x 2000 | 3000 x 3200 x 2500 | 45.0 | 1800 |
Download product data sheet


See also