Thermodryer Ovens 400 °C
Forced convection electric oven for all applications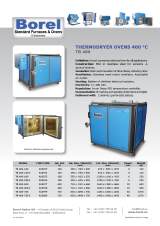 Product description
Construction: Mild or stainless steel for versions -I, several shelves.
Insulation: Rock wool insulation of all surfaces, including door.
Heating: Battery of shielded electrical resistors.
Electricity: 3x400 VAC, 50 Hz.
Regulation: Axron Swiss PID temperature controller, over temperature safety.
Documentation: CE marking and operating instructions in English.
Delivered with: 2 shelves (perforated plates).

Options available upon request: Additional Shelf, Axron Swiss Temperature Programmer, Safety thermostat, Aluminised protective gloves, Extended warranty.
| | | | | | | |
| --- | --- | --- | --- | --- | --- | --- |
| Model | Item code | Int. Vol. (L) | Int. Dim. (WxHxD) (mm) | Ext. Dim (WxHxD) (mm) | Power (kW) | Weight (kg) |
| TR 400-140 | N15973 | 140 | 390 x 390 x 900 | 1140 x 1050 x 1700 | 8.0 | 120 |
| TR 400-140-I | N15974 | 140 | 390 x 390 x 900 | 1140 x 1050 x 1700 | 8.0 | 120 |
| TR 400-180 | N15975 | 180 | 555 x 605 x 555 | 1300 x 1150 x 950 | 6.0 | 250 |
| TR 400-180-I | N15976 | 180 | 555 x 605 x 555 | 1300 x 1150 x 950 | 6.0 | 250 |
| TR 400-400 | N15977 | 400 | 700 x 800 x 700 | 1360 x 1400 x 1540 | 20 | 650 |
| TR 400-400-I | N15978 | 400 | 700 x 800 x 700 | 1360 x 1400 x 1540 | 20 | 650 |
| TR 400-735 | N15979 | 735 | 830 x 1490 x 750 | 1480 x 2400 x 1490 | 35 | 1070 |
| TR 400-735-I | N15980 | 735 | 830 x 1490 x 750 | 1480 x 2400 x 1490 | 35 | 1070 |
Download product data sheet


See also