Laboratory Line Ovens 300 °C
Forced convection electric oven for all applications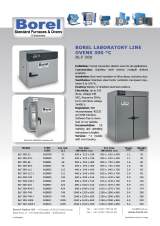 Product description
Construction: Stainless steel interior, multiple shelves supports.
Insulation: Rock wool insulation of all surfaces, including door.
Ventilation: Stainless steel motor ventilator. Fanspeed regulation 0 to 100%.
Heating: Battery of shielded electrical resistors.
Electricity: Up to 245 litres, voltage 230 VAC, frequency 50 Hz. From 424 litres voltage 3X400 V.
Regulation: PID microprocessor. RS232 and USB interface. Software free to download on our website.
Documentation: CE marking and operating instructions in English.
Delivered with: 1 shelve. From 56 L, 2 shelves, from 245 L, 3 shelves, for 749 L, 5 shelves and and 6 for model 1005 L.
Version: *-I models with inox housing.

Options available upon request: Additional shelf, Extended warranty, Option "PLUS" PID microprocessor controller with 5.7" touch screen panel, Inner glass door (from model 56 L), Internal lighting (max. temp. reduced to 250 °C), Perforared shelf, reinforced shelf for model starting from 56 L.
Reinforced construction for model starting from 56 L, Stainless steel cuvettes, additional Pt temperature sensor, wheels, dot printer, table with wheels, cables, RS422 & RS485 interfaces, "PLUS" software for PC features temperature monitoring.
| | | | | | | |
| --- | --- | --- | --- | --- | --- | --- |
| Model | Item code | Int. Vol. (L) | Int. Dim. (WxHxD) (mm) | Ext. Dim (WxHxD) (mm) | Power (kW) | Weight (kg) |
| BLF 300-32 | N18799 | 32 | 400 x 320 x 250 | 590 x 630 x 520 | 1.1 | 35 |
| BLF 300-32-I | N18800 | 32 | 400 x 320 x 250 | 590 x 630 x 520 | 1.1 | 35 |
| BLF 300-56 | N18801 | 56 | 400 x 390 x 360 | 590 x 700 x 620 | 1.6 | 50 |
| BLF 300-56-I | N18802 | 56 | 400 x 390 x 360 | 590 x 700 x 620 | 1.6 | 50 |
| BLF 300-112 | N18803 | 112 | 460 x 540 x 450 | 650 x 850 x 710 | 2.4 | 65 |
| BLF 300-112-I | N18804 | 112 | 460 x 540 x 450 | 650 x 850 x 710 | 2.4 | 65 |
| BLF 300-245 | N18805 | 245 | 600 x 800 x 510 | 810 x 1200 x 770 | 3.0 | 126 |
| BLF 300-245-I | N18806 | 245 | 600 x 800 x 510 | 810 x 1200 x 770 | 3.0 | 126 |
| BLF 300-424 | N18807 | 424 | 800 x 1040 x 510 | 1010 x 1430 x 780 | 3.9 | 174 |
| BLF 300-424-I | N18808 | 424 | 800 x 1040 x 510 | 1010 x 1430 x 780 | 3.9 | 174 |
| BLF 300-749 | N18809 | 749 | 1040 x 1200 x 600 | 1260 x 1600 x 870 | 5.4 | 260 |
| BLF 300-749-I | N18810 | 749 | 1040 x 1200 x 600 | 1260 x 1600 x 870 | 5.4 | 260 |
| BLF 300-1005 | N18811 | 1005 | 1040 x 1610 x 600 | 1260 x 2000 x 880 | 5.4 | 330 |
| BLF 300-1005-I | N18812 | 1005 | 1040 x 1610 x 600 | 1260 x 2000 x 880 | 5.4 | 330 |
Download product data sheet


See Also