Fixed Crucible Melting Furnaces 1200 °C
Fixed crucible furnace for melting or holding the melted state of non-ferrous metals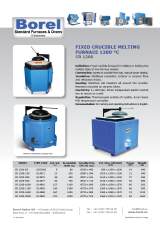 Product Description
Construction: Access to crucible from top, manual cover closing.
Insulation: Multilayer insulation. Interior in ceramic fibre and refractory bricks.
Heating: Electrical coil resistors all around the crucible. Resistors mounted on ceramic tubes.
Electricity: 3x400 VAC, 50 Hz. Independent electric control box to mount on a wall.
Regulation: Thermocouple outside of crucible. Axron Swiss PID temperature controller.
Documentation: CE marking and operating instructions in English.

Options available upon request: Axron Swiss Temperature Programmer, Flap on the lid, Additional crucible, Thermocouple inside crucible, Extended warranty.
| | | | | | | | |
| --- | --- | --- | --- | --- | --- | --- | --- |
| Model | Item code | Int. Vol. (L) | Acceptable mass (kg) | Crucible Dim. (Ø x h) (mm) | Ext. Dim. (WxHxD) (mm) | Power (kW) | Weight (kg) |
| CR 1200-65 | G202062 | 9 | 80 | Ø210 x 350 | 900 x 800 x 900 | 14 | 490 |
| CR 1200-150 | G14871 | 23 | 200 | Ø340 x 395 | 950 x 800 x 950 | 21 | 540 |
| CR 1200-300 | G14875 | 46 | 400 | Ø527 x 451 | 1000 x 900 x 1000 | 27 | 590 |
| CR 1200-650 | G14877 | 80 | 700 | Ø527 x 710 | 1150 x 1050 x 1150 | 50 | 680 |
| CR 1200-1000 | G14881 | 127 | 1100 | Ø720 x 600 | 1250 x 1150 x 1250 | 60 | 920 |
| CR 1200-1150 | G14855 | 145 | 1300 | Ø720 x 670 | 1400 x 1950 x 1800 | 66 | 1805 |
| CR 1200-1600 | G14888 | 167 | 1500 | Ø720 x 885 | 1600 x 2000 x 1950 | 74 | 2600 |
| CR 1200-2000 | G14890 | 222 | 2000 | Ø720 x 975 | 1450 x 1400 x 1450 | 84 | 1260 |
Download product data sheet


See also