Heating Tables 300 °C
Heating table for all applications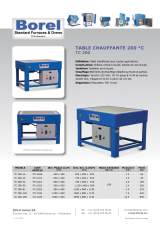 Product Description
Construction: Welded chassis, aluminum tray.
Insulation: Rock wool insulation.
Heating: Heating components distributed throughout the heating surface.
Electricity: Voltage 230 VAC, 50 Hz up to 4 kW and voltage 3x400 VAC frequency 50 Hz from 4 kW.
Regulation: Axron Swiss PID controller.

Options available upon request: Axron Swiss Temperature Programmer, Personal protective equipment, Protective cover, Steel tray, Extended warranty.
| | | | | | | |
| --- | --- | --- | --- | --- | --- | --- |
| Model | Item code | Plate Dim. (WxH) (mm) | Ext. Dim. (WxHxD) (mm) | Acceptable mass (kg/m2) | Power (kW) | Weight (kg) |
| TC 300-16 | P711327 | 400 x 400 | 500 x 800 x 500 | 100 | 1.9 | 65 |
| TC 300-26 | P711328 | 650 x 400 | 750 x 800 x 500 | 100 | 3.1 | 95 |
| TC 300-42 | P711329 | 650 x 650 | 750 x 800 x 750 | 100 | 4.9 | 150 |
| TC 300-58 | P711330 | 900 x 650 | 1150 x 800 x 950 | 100 | 7.0 | 200 |
| TC 300-81 | P711331 | 900 x 900 | 1150 x 800 x 1150 | 100 | 9.7 | 275 |
| TC 300-126 | P711332 | 1400 x 900 | 1650 x 800 x 1150 | 100 | 15.1 | 420 |
| TC 300-180 | P711333 | 2000 x 900 | 2250 x 800 x 1150 | 100 | 21.7 | 600 |
Download product data sheet


See also